Our prompt response time, professional drivers and reliability are why we are the number one choice for most trucking needs.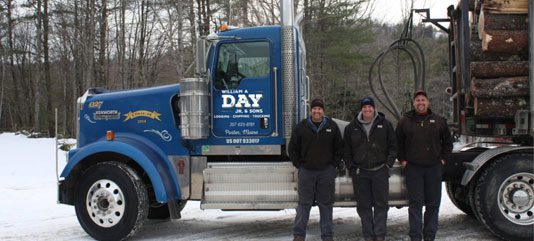 Trucking Services in Maine & New Hampshire
At Day Logging, we strive to provide top-of-the-line trucking services to our esteemed clients in Maine and New Hampshire. We've been assisting our clients in transporting wooden logs for over thirty years. We've got an experienced team who can load and unload your logs without damaging them.
Our land clearing services include selective tree cutting and removal, complete lot clearance, preparation for full-scale construction and more. In combination with these land management services, we have our own trucking division making us a one stop shop for your land management and clearing needs. Simply put – we've got you covered.
For more than 30 years, our transportation division has provided trucking alongside our logging services, along with hauling logs for private landowners and timber companies in the Maine & New Hampshire region.
Our drivers are trained to handle complex operations with decades of log transportation experience and a fleet of state-of-the-art log trucks. Our employees have been trained to maximize productivity on every load. They are capable of getting the job done efficiently and safely.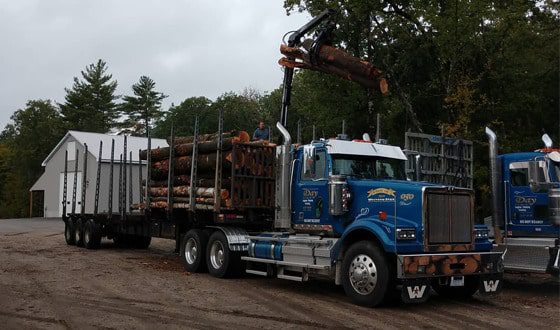 Logs and pulpwood can both be hauled by our equipment. Thanks to our prompt response time, professional drivers, and reliable service, we deliver logs throughout the year. We're familiar with regulations, and we take extra precautions in safe driving practices.
Our team is well experienced and ready to accept any challenge. Just ask.