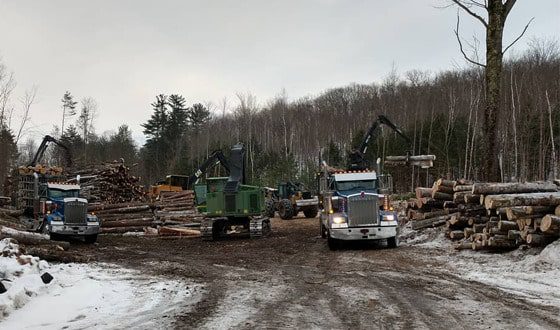 Wooded Lot Clearing From A Multi-generational Company You Can Trust
Lot Clearing is a critical and complex process that should be done right for the sake of safety and preservation of our land. There are many Maine & New Hampshire lot clearing services and lot clearing companies, but only a few have the expertise and consistency needed to execute the job accurately and quickly. Day Logging has over 30 years of experience in this industry to ensure you are receiving the highest quality lot clearing service possible.
Do You Need Your Wooded Lot Cleared?
Would you like to improve the condition and quality of your lot, either for aesthetic or financial purposes? Would you like trees cleared off the lot to make way for more pleasant landscaping ideas? Do you have a construction project being planned on a wooded lot? If any of these situations seem familiar or relatable to you, you should call Day Logging today. As a premiere Maine wood lot clearing company, you can count on us to get the job done right and quickly. We will start with a consultation to discuss your priorities and goals and begin a lot clearing plan that makes sense for you.
Don't Try To Clear Your Lot Alone
While there are minor fixes you can make to your lot without the aid of a professional, a job thoroughly done requires experienced and knowledgeable industry experts. Several hazards can arise as a lot gets cleared.These are incredibly difficult to maneuver around without the proper equipment or knowledge of the situation.
For example, heavy machinery is usually needed to clear a lot. These machines require proper knowledge to operate and remove the trees without disrupting things like electrical lines. Call Day Logging today for a professional and quality lot clearing service.
The Day Logging Difference
Day Logging has been around for over 30 years and has been family-owned throughout its history. Our team of dedicated Maine logging experts knows what to do and how to do it. No matter what obstacles arise, with more than three decades behind us, odds are good that we've seen it before.
We'll help you clear your lot the right way, with an eye for conservation and the promise of safety and convenience. Visit our website today or call us at 207-625-8181 for a free quote on lot clearing from a reputable lot clearing company.
Our team is well experienced and ready to accept any challenge. Just ask.